Milestone Potash Phase 1 Processing Plant Moves to Commissioning Phase
Western Resources Corp. (the "Company") (TSX: WRX) is pleased to announce that the processing plant of the Milestone Potash Phase 1 Project (the "Project") is transitioning from the construction phase to the commissioning phase. In addition, the Operations team has officially begun preparation for Start-up and operations. The Project is located about 35 km southeast of Regina, Saskatchewan.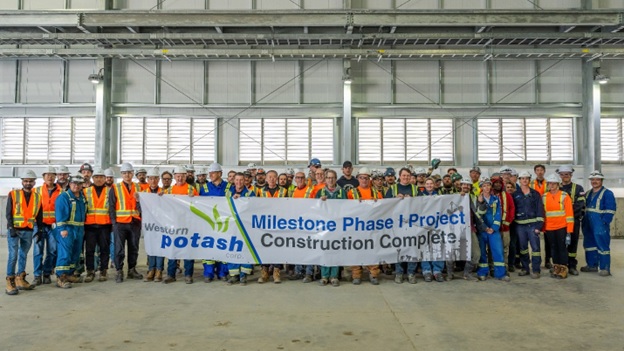 A photo accompanying this announcement is available at https://www.globenewswire.com/NewsRoom/AttachmentNg/42108578-25cf-4073-97e8-520af41be02e
To ensure successful commissioning of the process plant, Western Potash Corp. ("Western"), a wholly owned subsidiary of the Company which owns the Project assets, has further enhanced its operation and technical team by appointing Mr. Jamie Janotta Operations Director. Mr. Janotta brings over 40 years of potash processing and operational experience to the Project. Mr. Janotta started his professional career at the world's largest solution potash mine – Mosaic Potash Belle Plaine Mine – having served there for 30 years as, progressively, Wet Process Supervisor, Maintenance Manager, Minefield Manager, Refinery Manager and Commissioning Manager. Over the past decade, Mr. Janotta has been actively involved in consulting for many other potash projects in the areas of processing and commissioning. He has demonstrated a strong track record, in his various roles, of increasing refinery capacity, reducing operational costs and improving product quality and safety performance, among others.
Western CEO and President, Mr. Bill Xue, said "We are very fortunate to have Mr. Janotta join our team. The Milestone Project will greatly benefit from Mr. Janotta's extensive experience which he accumulated over decades of service in potash processing and commissioning. As the Project advances toward operational readiness, I strongly encourage those who have a keen interest in innovation and potash solution mining to consider joining our team and help advance the Milestone Phase 1 to next steps. I look forward to witnessing the Project move toward into production."
Bill Xue
Chair of the Board
Western Resources Corp.
Cautions Regarding Forward-Looking Statements
Certain statements contained in this news release constitute forward-looking information within the meaning of applicable Canadian securities laws. Forward-looking statements are statements that are not historical facts and are generally, but not always, identified by words such as "anticipate", "continue", "estimate", "expect", "expected", "intend", "may", "will", "project", "plan", "should", "believe" and similar expressions (including negative variations), or that events or conditions "will", "would", "may", "could" or "should" occur. Forward-looking statements are based on the opinions and estimates of management as of the date such statements are made and they are subject to known and unknown risks, uncertainties and other factors that may cause the actual results of the Company to be materially different from those expressed or implied by such forward-looking statements or forward-looking information. Although management of the Company has attempted to identify important factors that could cause actual results to differ materially from those contained in forward-looking information, there may be other factors that cause results not to be as anticipated, estimated or intended. There can be no assurance that such statements will prove to be accurate, as actual results and future events could differ materially from those anticipated in such statements. Accordingly, readers should not place undue reliance on forward-looking information. The Company does not undertake to update any forward-looking information that is set out herein, except in accordance with applicable securities laws.
For more information on the contents of this release please contact Jack Xue, Corporate Secretary, at 306-924-9378.
News Provided by GlobeNewswire via QuoteMedia